QCamel, Australia's premium supplier of camel milk products is owned and run by the Brisbane Family and our dedicated team of wonderful staff on The Sunshine Coast of Queensland.
All stories are a journey and our journey to establish the QCamel Dairy we live for today began in 2006. Passionate about camels and whilst working in the agricultural industry, Director Lauren completed a two-year study on the development of the camel industry in QLD (Camels in Queensland: Opportunities for Diversification, 2009).
Lauren's research led to our family to the camel industry and before long we became proud founding members of the Australian Camel Industry Association (ACIA). ACIA works with the camel business community, Indigenous communities, Government and Non-Government Organisations to regulate and develop the camel industry in Australia. We began plans to develop our dairy soon after.
In 2014, we were accredited as a producer and produced the first pasteurised Camel Milk in Australia. Today QCamel are proud to bring you nature's healthiest milk and milk products, growing the range from milk to yoghurt smoothies, powders, bi-powders and cosmetics. Stay tuned for a range of exciting goods to come!
These items are stocked in over 80 retailers throughout Australia, including David Jones, and internationally exported to New Zealand and Singapore. We also run a successful tourism venture with our partner "Live It Tours", providing a unique farm gate experience with our 'Camel Cuddles' and 'Camels and Canapes' tour.
Our professional reputation and industry sustainability derive from the three foundations of QCamel that are at the core of our business –
Our absolute love of camels.
Our passion for ethical farming.
Our focus on providing premium health products in the Australian and International market.
When we began our adventure, we had no dairy background and found ourselves in a tiny camel milk industry in Australia. However, we found this advantageous as we weren't loyal to traditional dairy practices. We were determined to break new ground in ethical production.
Our family also has a significant history of health issues and we have always sought out alternative and holistic treatments. Camel Milk has been used as a nutritious wholefood substitute for other animal milk products in many cultures for thousands of years and is known for its healing and medicinal properties.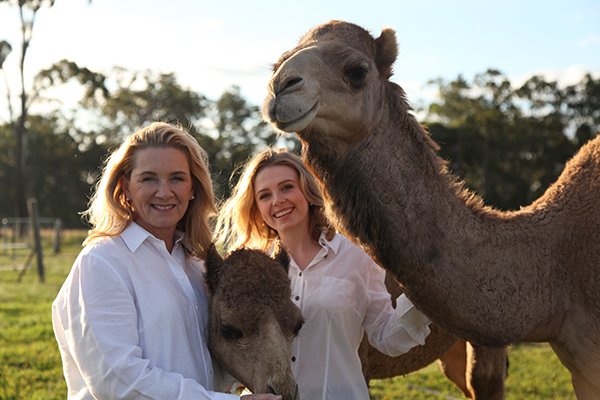 We knew we had found our calling when we ascertained a way to combine our love of animals, particularly camels, and the ability to help people with a premium health product.
And if our products helped other families with an opportunity to approach certain health issues disparately, like it did our own, then that's an added bonus.
It is paramount when running a happy and healthy camel dairy to really understand and respect the camels. They are deeply emotional and highly intelligent animals that need to be managed differently than other dairy animals. We see them as our family members and fellow members of staff rather than just stock or machinery.
We purposely employ fellow animal lovers rather than traditional farmhands and for this reason very few of our staff have worked on farms before. We find this way our crew develops deeper connections with the animals, allowing them to build trust and in turn produce higher, healthier yields of milk.
As well as our dedicated team, our entire family continues to be part of every step of the business from day one, to this day. Owners Lauren, Peter and their children Yasmin, MacKinley, and Harry are involved in all aspects of QCamel including personal deliveries to customers and stores, working in the dairy and with the animals, processing milk and marketing activities.
We are proud of what we have achieved since our inception and infancy and we will continue as always to provide superior camel milk products, commit to ethical, sustainable and organic farming practices and treat our camels with the love and care they deserve.