What truly sets QCamel apart from other bovine and camel dairies are our standards of ethical, organic and sustainable practices, which are unrivaled in Australia and across the world. Our core belief at QCamel is that a 'happy camel produces healthy milk' and our animals are treated accordingly. First and foremost, our camels are loved and cared for at the highest possible standard. But more importantly, they are understood and respected. An enormous amount of time has been spent studying camels, camel milk, camel husbandry, behaviour and the history of camels.
Camels are extremely intelligent and emotional animals. They have a distinct family structure within their matriarchal group where information is passed down from grandmother to mother to daughter. That social structure is incredibly important.
These highly intuitive creatures understand what is being communicated to them from their human counterparts and form close bonds with them. In fact, a camel won't milk if they don't like their handler so understanding them and treating them with respect is imperative to a successful camel dairy.
Our philosophy of ethical production includes the following:
Promoting and respecting the bond our camels have with their calves
Respecting their natural instincts to live in a herd
Developing a mutual bond and respectful partnership between humans and camels
Using their intelligence to manage them, their health and the health of their calves
Those statements equate to the highest standard in animal production, we believe, in Australia and as such:
As part of this philosophy, we are dedicated to fostering unique farming practices:
We do not remove our calves from their mothers
We do not slaughter our bull calves, older or non-milking camels. They will grow old with us or are re-homed to a loving family
No camel is forced to milk, they come into the dairy on free will
We respect their good grace to share their milk with us and their calf
We allow the mother and calf to bond for their first few months before moving them into the dairy, encouraging the calf's health and development
We respect their right to choose when they would like to wean their calf, which can vary from 14 months to 2 years
All our camels are pasture fed and roam freely in a natural herd with their calf
We do not artificially inseminate
We do not tag or brand our camels. As such, every camel has a name which they answer to and are identified by sight and personality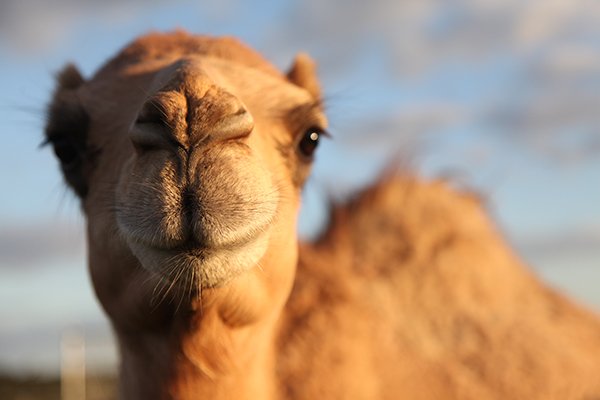 We also follow organic guidelines, which include:
We do not feed our camels grain, hormones or antibiotics
All our camels are pasture fed and supplemented with organic feed
We do not use pesticides or sprays
We encourage holistic and organic healthcare where possible
As part of producing healthy milk, we are also committed to being environmentally friendly and sustainable, and as such:
We utilise our surrounding environment for feed and water
We recycle by-products including camel poo and wool
Our milk bottles are PET BPA free and recyclable
Want to meet our camels, get involved and learn more about our farming practices and milk production? We would love to welcome you to QCamel on one of our unique farm gate experiences. Book your tickets today and fall in love with our camels just as much as we have!